Corporate Events Live Streaming
Video Events Auckland Live Stream are experts in livestreaming corporate events to targeted audiences. Our videographers will stream your event live so that anyone can watch it.
Get a Quote
– Corporate Events Live streaming Auckland
– Corporate Events Live Streaming Wellington
– Corporate Events Live Streaming Christchurch
Sam answered our last minute SOS call and was able to assist is with the Live Stream of my Dads Funeral. Very Professional set up and a Quality Stream as well. highly recommended and A+++ Service 👌🏽🙏🏽🙏🏽🙏🏽
Carolyn Sylvester
2022-11-29
Sam assisted us with a live stream (3 cameras and 3 microphones) of an interview and musical event. It was great to have someone we could trust looking after the livestream. Great.
We couldn't recommend anyone more!
Auckland Live Streaming has been pleasant and professional to deal with. Very accomodating to events that need top quality screening. Sam was very helpful and easy to deal with. Highly recommended!!
Great job Sam! Fantastic communication and delivered what we wanted. Would highly recommend you to anyone.
Was so great to have Sam do this for us. He dealt with streaming from a difficult location with ease.
Friendly and efficient communication, excellent product, and really competitive pricing. Highly recommend
I was looking around last minute for someone to do the live stream for my fathers funeral as plans changed. VideoEvents was one of the first that popped up on my Google search. Sam responded straight away, answered all my queries and questions quickly, gave me one fixed cost and that was that. Very friendly, professional and great at what he does! My family overseas enjoyed the livestream. I can't thank you enough for your services.
Jessica Chapple
2021-02-03
We had a great experience with Sam from start to finish.

Livestreaming Corporate Events Services in Auckland & Wellington
There are plenty of reasons to livestream your next corporate event.
For starters, those who can't physically attend the event can still feel like they're part of it by watching the live stream.
Secondly, live streaming provides your viewers a front row experience to all the action and enables them to see everything transpiring as it happens.
Last but not least, live streaming provides you access to a larger audience than if you just recorded the event and posted it later.
Finally, live streaming lets you interact with your audience in real-time, which can create a more engaging and exciting experience for everyone involved.
At Auckland Livestream Pros, we have a passion for live streaming and years of experience making corporate events stream flawlessly. Our team will work with you to make sure your next event is a success by overcome any challenges you may face related to live streaming. We understand how important it is to get it right the first time so that your audience can enjoy the event as much as possible. Contact us today to learn more about our services and how we can help transform your next corporate into an online hit!


The Benefits of Hiring a Professional Videographer for Your Corporate Livestreaming Event
Video Events Auckland Live Streaming is composed of professional videographers with years of experience streaming corporate events. We will make sure that your event goes off without a hitch and livestream it to however large or small an audience you have. Utilising a professional live stream videographer has several advantages. Most importantly, we have the experience and know-how to guarantee your event is filmed magnificently. We are aware of how to place cameras and lighting to get advantageous shots. Secondly, we can assist with the technological particulars of live streaming your function. We can confirm that everything runs effortlessly so you will not encounter any problems with the live stream itself.
More and more people are opting to stream their events annually, so it's wonderful that you're considering a professional live stream videographer who provides stunning quality results. If you have any questions or would like a quote for your next corporate event, please reach out to us at Video Events. We'll be delighted to help in any way we can!
Types of corporate events we can live stream.
There are many types of corporate events that we can live stream, such as:
conferences
product launches
award ceremonies
trade shows
live music performances
Whether you use one camera or multiple cameras, we can live stream your event to your website, social media platforms, or a private viewing page. This allows people who couldn't attend the event to watch it live or view the recording later.
If you're looking to increase engagement with customers, employees or investors, live streaming is a great option. Plus, it builds excitement for those attending the event in person.
If you're considering live streaming your next corporate event, get in touch with us today. We have years of experience in live streaming and video production, and we can help make your event a success.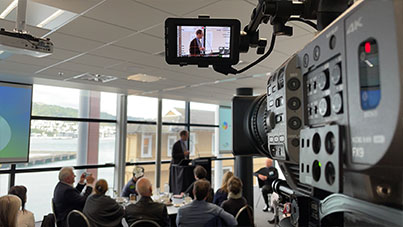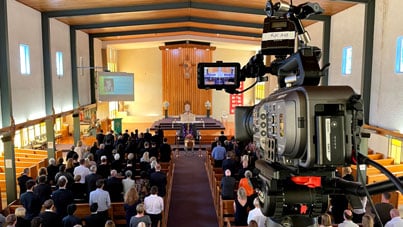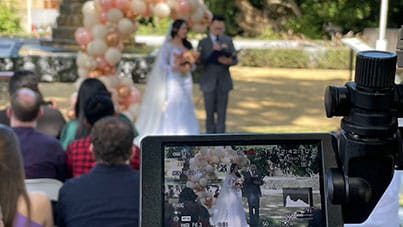 2022 Case Study
Video Events was approached to stream the Net Zero event in Nov 2022. The task was to stream their event and display it on the big screens, slides, polls, Videos, and even a Live  Zoom caller who did a presentation from overseas. Not only did we achieve all of these things, but we were also left with a very happy repeating customer!
Latest from the Video Events Gram
Why use Video Events for Funeral Live Streaming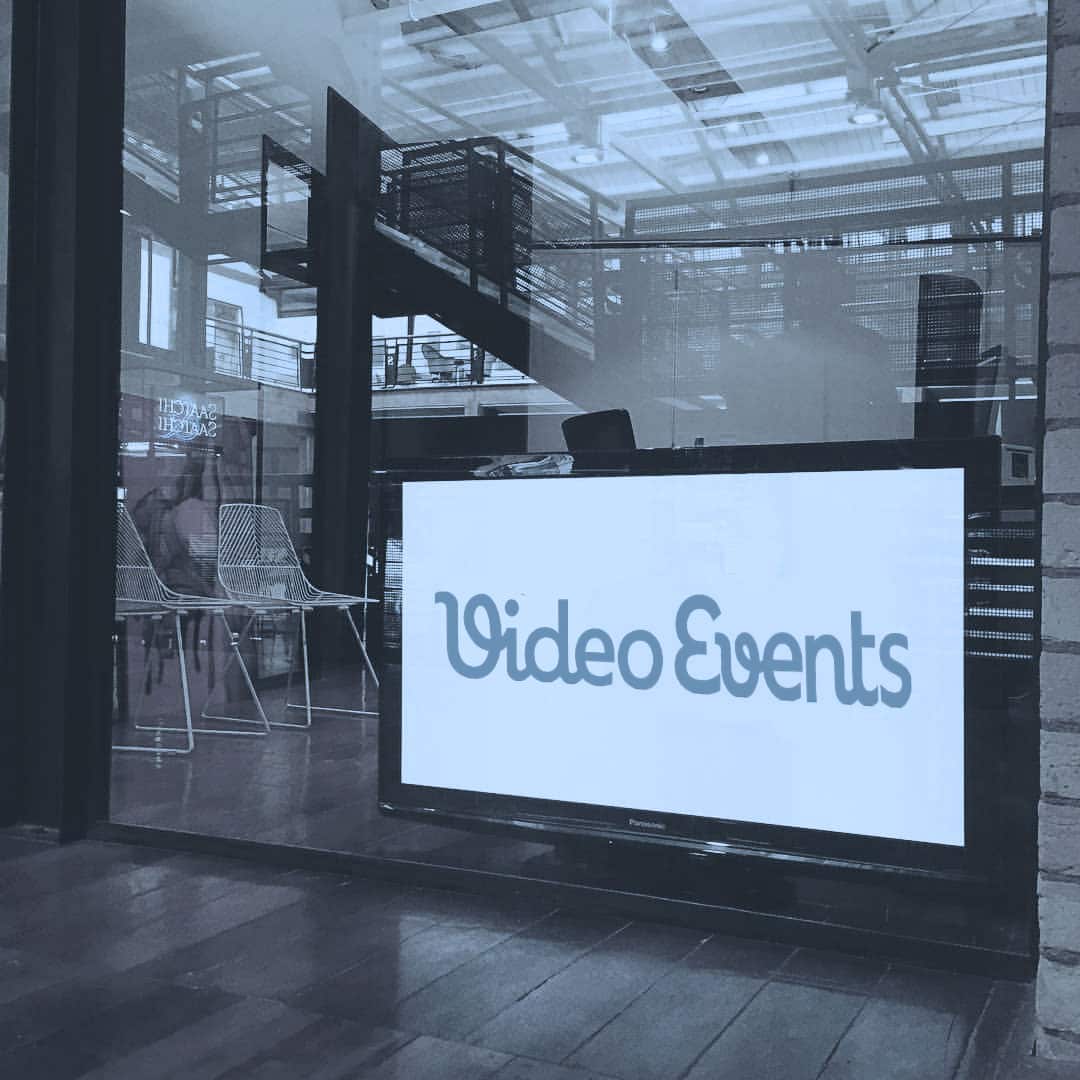 The Friendly Team
Our online quote form only takes 1 minute to fill out, and it provides us with the information we need to give you an accurate quote for your video project.
Events We Cover Live
We host corporate events, funerals, tangis, burials, weddings, announcement parades, sporting events and more. With our experienced team by your side every step of the way; we will make sure that your event is one to remember.
We are Fast
We take a pre-site visit to assess the location before we film so that everything goes according to plan on the day of production. This also helps us save time setting up and packing down on site. If editing is required, it will be done within 24 hours after filming.
Common questions with livestreaming corporate events:
-Why use a live stream videographer?
Having a live stream videographer at your event guarantees that you'll get professional footage to share with your audience. At our company, we have years of experience in both video and photography. This means that we can give you high quality footage of your next big event.
-How much does it cost to live stream an event?
Depending on the length of your event, how many cameras you need, and where your event is taking place, the cost of live streaming can vary. However, we will create a custom package that meets your budget requirements.
-What are the benefits of live streaming an event?
Broadcasting an event through live streaming Video provides you with a global reach for your viewing audience and the ability to record, edit, and share the event all in real-time.
-How do I live stream an event?
We will partner with you to discern the best method of live streaming your event by using multiple cameras, live editing, and/or live encoding.
-How do I promote my live stream?
There are several ways you can make sure people know about your upcoming live stream, such as through email marketing, social media platforms, and by creating a dedicated landing page.